H.E. Maria Theresa Dizon-De Vega Ambassador of Philippines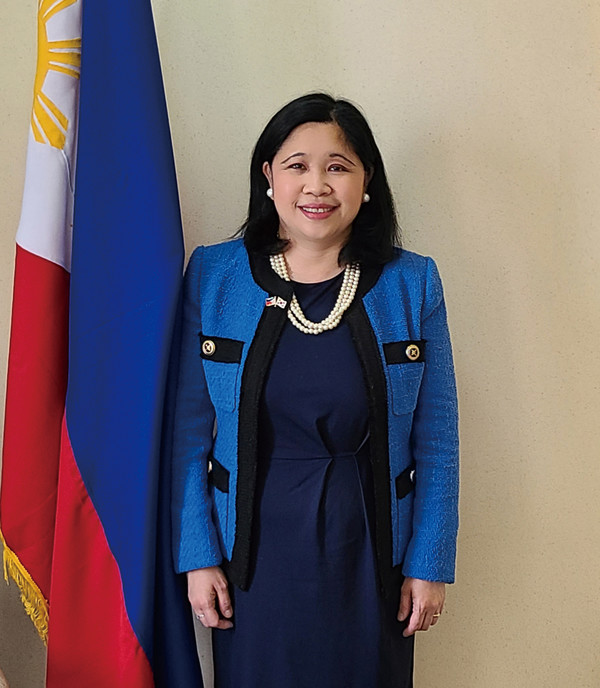 On the occasion of 124th anniversary of the Proclamation of the Republic of the Philippines and Independence Day, June 12th, the "Seoul City" magazine interviewed H.E. Maria Theresa Dizon-De Vega for the propects of strengthening further the close ties between Korea and Pilippines in the years to come.
Please introduce the significance of your Independence Day, June 12th.
This is the Philippine Embassy in Seoul's first National Day celebration in three years, since the onset of the COVID-19 pandemic so it's very meaningful for the Embassy. It's symbolic not just because it is a major Filipino milestone and celebration, but because it's also a commemoration of our resilience as a country and people. This year's celebration is anchored on the theme "Kalayaan 2022: Pag-suongsaHamon Ng PanibagongBukas (Rise Towards the Challenge of a New Beginning)" and it speaks of what our nation is currently experiencing. We are ushering in a new set of leaders, we are steering the country to recovery from the effects of a prolonged economic standstill from the pandemic and we are coming together as a nation who are ready to engage even more actively with our international partners and friends.
Such a celebration is important overall because it helps maintain and promote the our country's image, standing, and sense of identity for our overseas community, and at the same time it is also a celebration of the deep friendship and really broad ties between the Philippines and Korea. It is something we would like to encourage. It falls squarely within our advocacies for multiculturalism, for inclusiveness in society and the community, and for policies affecting our migrants overseas.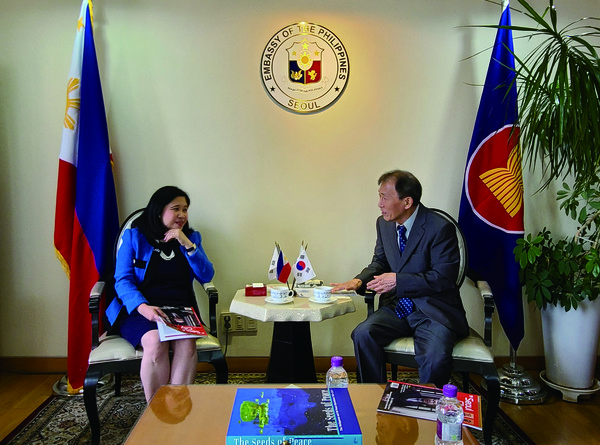 Please tell us the brief history of diplomatic relations between Philippines and Korea.
I always say ours is a relationship forged through the bravery and valiance of our forefathers who fought side by side during the Korean War. Our bilateral relations started on 3 March 1949 when the Philippines became the fifth country to recognize the Republic of Korea.Our brotherhood was cemented by the Philippine deployment of the Philippine Expeditionary Force to Korea (PEFTOK) during the Korean War in the 1950s to help South Korea defend itself from the invasion of the North. We sent 7,420 Filipino troops to Korea and were the third-largest sending country, second only to the US and United Kingdom at that time. Interestingly, one of our veterans, Fidel V. Ramos, a recipient of Korea's Tageuk Medal, went on to become the President of the Philippines.
The bilateral relations between the Republic of the Philippines and the Republic of Korea have developed comprehensively and extensively, encompassing the political-security, economic, and socio-cultural spheres through the years. We have 73 years of cooperation on both bilateral and multilateral fronts. South Korea is a major trading partner of the Philippines.People-to-people exchanges between the Philippines and Korea are very close and warm, in fact prior to the pandemic South Korea was our number one source of inbound tourists for the Philippines. We are glad that two-way travel is picking up again now that the Philippines has fully opened to tourists starting April 2022 and Korea has eased restrictions starting 1 June 2022.
Aside from our shared history, we also remain committed to geopolitical issues of collective concern. We share the same goals for economic development in the region, peace and stability, and sustainable progress. We remain an active supporter of PH-ROK projects and find ourselves aligned with the Republic of Korea's position on many policy issues especially pressing matters such as climate change, nuclear security, and development cooperation.
Would you please let us know what industrial sectors would be most promising for Korean companies to invest in Philippines?
The major industries of the Philippines include manufacturing, electronics, semi-conductors, the automotive industry, and agribusines. While emerging areas include film and video content, the knowledge industries like animation, digital content, innovation, and the e-mobility industry.
Many of these sectors including newer ones such as vaccine development and the green economy are included in the recently concluded Philippines-Korea Free Trade Agreement which we hope will be implemented this year.
Food Processing is one area where the Philippines is getting a lot of interest from Korean companies. With the abundance of raw materials and a variety of locations to choose from in our 7,641 islands, there are opportunities for packaged food, food ingredients, and even pet food. The Philippines is a source of quality processed ingredients that Koreans can use in healthy and natural food, wellness and beauty products. Popular items include moringa powder, moscovado sugar, coconut powder and sugar, and calamansi powder. Items like pili oil and elemie oil are also starting to gain some interest especially for beauty products.
Additionally, Philippines' fresh fruits like bananas, pineapples and mangoes as well as products like banana chips, coconut oil, coconut water, dried fruits, desiccated coconut, cacao chips, snack foods and calamansi products remain to be popular with consumers.
High-value Manufacturing is another area that Korean companies should strongly consider as the Philippines has a long track record in manufacturing and a capable workforce to support the sector. High-value manufacturing can include Electronics and Semiconductor, Vehicle and vehicle parts and medical devices. There is also the Corporate Recovery and Tax Incentives for Enterprises Act or CREATE which allows the Philippines to be flexible in providing incentives for strategic investment in our country.
Lastly, services are one area where the Philippines is very competitive. Koreans can take advantage of our strength in business process outsourcing, health information management, and creative services which we are globally known for.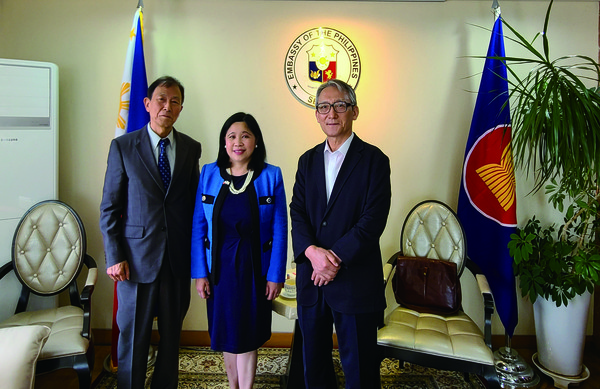 Please introduce foreign investment environments of Philippines for Korean potential investors and introduce some outstanding Korean companies activities in Philippines.
Recently, the Philippines is focused on strengthening its position to further attract hi-tech investments and create high-value jobs in the country by taking advantage of the dynamic global shift in the EV sector through strong national policy support.
The government just enacted Republic Act No. 11697 otherwise known as the Electric Vehicle Industry Development Act or EVIDA, which provides for a national policy framework to develop the electric vehicle industry in the Philippines. The Electric Vehicle Association of the Philippine of EVAP estimates that there will be 1 million E-Vehicles in the Philippines by 2030.
The Philippines continues to partner with key organizations that can help us develop the EV infrastructure. One such project is the DTI and UNIDO E Mobility program which will launch a $3.8-million project to provide technical assistance to national and local governments in order to enhance the EV policy environment and deploy EV and charging infrastructure to lead cities between 2022-2027.
We are seeing more charging stations being established in the Philippines to encourage the use of EVs. Early this year for example, two malls of the Ayala Land Inc inaugurated their integrated electric vehicle (EV) charging and transport systems. Global Electric Transport (GET Philippines, Inc.), one of the partners in the project said that they intend to deploy hundreds of EV chargers nationwide as they expand their transport system.
Through the EVIDA, the Philippine government shall support EV manufacturers and importers through the expeditious processing by the Bureau of Customs on the importation of parts and components for the manufacture and assembly of EVs. On EV manufacturing, the government shall allow expert foreign nationals to be employed under a form of technology transfer agreement, subject to the guidelines that shall be issued by the DOLE, the PRC, and the DTI.
The Philippines is one of the biggest markets and fastest-growing economies in the ASEAN. We also have a great potential to be a manufacturing base and support Korea in its EV Value Chain. Also worth mentioning is the availability of High-Value Minerals in the Philippines that are critical in the supply chain of EVs and EV Batteries.
Some noted Korean companies such as Samsung Electro-Mechanics - Electronic parts, SFA Semicon - Electronic Parts, Daeduck Electronics - Electronic Parts, Korea Electric Power Corporation (KEPCO) – Energy, Poongsan Corporation - Semiconductors parts, CJ Corporation – Logistics, and Bolim - Vehicle Parts continue to have a presence in the Philippines.
Please introduce tourists' attractions in Philippines for Korean tourists abroad.
We recommend the different tourism destinations and circuits being promoted by our Department of Tourism which were presented by our Tourism Secretary (Minister) Bernadette Romulo-Puyat during her official visit to Korea in April this year. These destinations include popular places like Boracay, Palawan, Manila, Cebu, Baguio, Benguet, and Clark where a new International Airport Terminal has just been opened. These destinations offer leisure, nature, cultural, heritage, golf-sports, and culinary tourism experiences.
There are likewise newer areas where we hope Koreans will visit soon such as Bohol which offers breath-taking natural sites such as the famous Chocolate Hills and the Bicol Region also with its unique natural areas and its cuisine and festivals.
Additionally, from May to October 2022, a total of thirty-one (31) regular flight routes will be available daily for travel to and from the Philippines. The operations will be servicing at least five ports of entry in the Philippines, namely Manila, Cebu, Clark, Bohol, and Kalibo. I am also pleased to announce that there are interested Korean airlines planning new routes from new take-off hubs apart from Jeju, Busan, Gimpo, and Incheon airpots, with airlines such as FlyGangwon planning a route in new take off points such as the YangYang International Airport in Yangyang-gu, Gangwon-do, South Korea. The airlines will operate regular Yang Yang-Clark-Yang Yang flight starting 24 June 2022 until October (for summer season) using a 189-seater plane. This is good news for the 1.52 million population of Gangwon-do looking to travel out of the country. It also means more tourists from Korea to the Philippines. Clark will also be the first international flight of Fly Gangwon.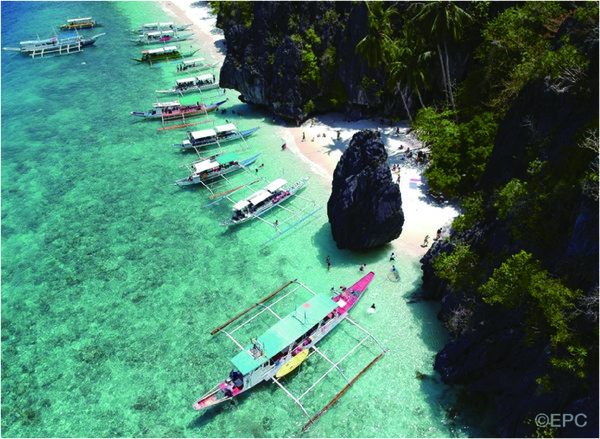 Please let us know your point of view on how to strengthen further the close economic and cultural ties between Philippines and Korea in the years to come.
The strong ties between the Philippines and Korea are forever anchored on our shared sacrifices during the Korean War. Through the decades, the importance of this deep bond has not diminished. It has contributed significantly to our long-standing and enduring relationship. Our relations only grew stronger as both our countries are tested by the challenges of a pandemic, climate change, and other concerns which threaten the peace and progress we have secured for our peoples. Our pandemic cooperation, active bilateral relations, and our people-to-people exchanges continue to manifest our solidarity and commitment to our long-term goals of a prosperous, secure, and sustainable future for our countries and the rest of the world.
We value the investments of Korea in the Philippines and acknowledge the benefits that we also receive through the advanced technology of Korea. The Philippines, as one of the biggest markets and fastest-growing economies in the ASEAN, is an attractive investment destination due to our workforce, incentives, and market access advantage. We also have a huge consumer market.
Our people-to-people ties are one of the strongest in the region. Our people share a deep, abiding friendship, furthered by digital connectivity. The Hallyu wave is gaining even more popularity in the Philippines due to the strength of K-pop and also K-drama. In fact, we are one of the top consumers of Korea's soft power diplomacy through arts and entertainment in the region. I am pleased to note Filipino fans pour their passion in supporting Korean artists and acts. There is likewise interest from the Korean community in following talented Filipino creatives.
In my view, strengthening economic and cultural cooperation can be achieved in two ways. First, strengthening current mechanisms we already have in terms of trade and exchanges. Second, exploring new ways of cooperation. I am pleased to note that my team in the Embassy of the Philippines and our counters in the Korean government have been working closely on both.
We are excited to note that close cooperation is at the forefront of Philippines-Korea relations, with an FTA ready for ratification, there are opportunities for increased economic cooperation and business engagement in emerging areas such as pandemic response, vaccine development, innovation, the green economy, and the growing E-Vehicle Industry. It provides further opportunities for growth for our fresh fruits, vegetables, and aqua and marine culture industries. For our Korean partners, it opens up opportunities to further grow the Korean E-Vehicle Industry in the Philippines and the rest of Southeast Asia. Another important development of the FTA is that it will promote the Philippines' aim to support Korea's strategic industries by supplying materials as part of the global value chain.
Overall, our economic and development cooperation relations are better than ever. In the first half of 2021, the Republic of Korea was the 6th major trading partner of the Philippines, 8th biggest export market, and 3rd largest import supplier. Korea is also one of our top investments-source countries and ODA partners.With the gradual easing of restrictions, I am confident that in the years to come, our trade figures will be higher, and our cultural ties will be stronger.
저작권자 © 서울시티 무단전재 및 재배포 금지