H.E. Damir KUSEN Ambassador of Croatia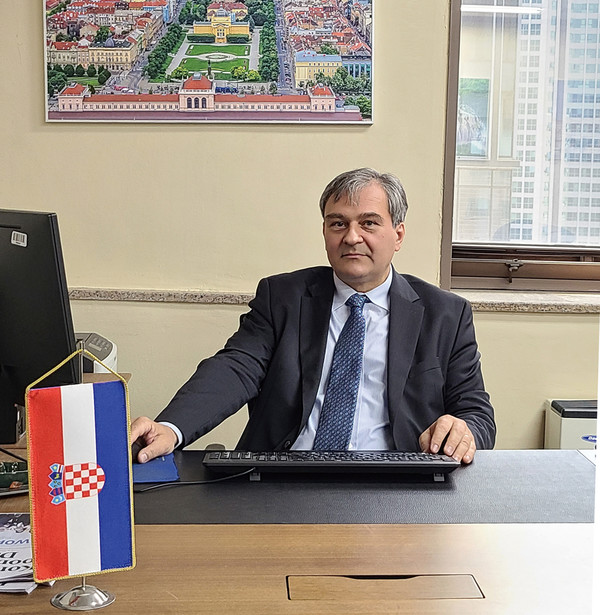 On the special occasion of 30th anniversary of the establishment of diplomatic relations between Korea and Croatia and also in commemoration of the Statehood Day of Croatia on May 30th, "the Seoul City" magazine had an interview with H.E. Damir KUSEN, ambassador of Croatia to Korea for the prospects of closer economic cooperation between the two countries in the years to come.
Please introduce the significance of your Statehood Day, May 30th.
Statehood Day, also known as the National Day, of Croatia is on the 30thMay, marking the establishment of the first modern,democratically-elected, multiparty Croatian Parliament in 1990. This followed the referendum on independence, which paved the way for Croatia's transition to democracy, and wasa crucial legal step towards independence from the communist Yugoslavia. Croatia received international recognition as a sovereign state on the 15thJanuary 1992, when it was officially recognized by many countries, and established diplomatic relations. This year, we mark the 30th anniversary of the establishment of diplomatic relations between Croatia and Korea and both the Croatian Embassy in Seoul and the Korean Embassy in Zagreb are jointly planning to organize several commemorative cultural events to show our true friendship, partnership, and cooperation.
Please introduce major industry and products of Croatia.
I think that we can say that three major factors have influenced and shaped the overall development of the Croatian industry. First, Croatia is a maritime nation with more than 1700km of basic coastline, with thousands of islands, and this strongly defines the business and economic orientation, with a long tradition of shipbuilding, ship-engineering, and fishery. The beautiful Adriatic Sea, mild Mediterranean climate, and rich historical and cultural heritage all-along the coastline have opened the huge opportunities for development of the tourist industry. In 2019, Croatia had around 20 million foreign tourists, five times more than our total population.
Second, mainly in the Eastern regions, Croatia has a large area of very fertile land perfect for agricultural production.Today, Croatia is a well-known producer of the numerous agricultural products, but also the medicinal herbs, high quality teas, and plants used in cosmetic and beauty industry. For instance, the Croatian camomile tea is among the best in the world.
Finally, Croatia was part of the Austrian-Hungarian Empire for many centuries and the engineering, technological orientation, and innovation-led industry was always a prominent line. A number of inventors, from Nikola Tesla to two Nobel Prize winners in chemistry, have strongly influenced the orientation of the country towards engineering and invention-based industry.
Since the beginning of the 1990s, computer and software engineering, with the emergence of many ICT companies, have profiled Croatia very well on the European ICT map. Infobip, a company with their HQ in the small Istrian city of Vodnjan, is now a unicorn company, with more than 5 billion people world-wide using their global cloud communication platform solutions and software applications. They have offices in more than 70 countries, including here in Korea.These software engineering, communications, robotics, VR, and EV technologies have shaped the new, highly competitive ICT environment.Croatia's EU Membership additionally offers more VC support and holds much interest for foreign investors. These days, we are particularly proud of the world-classachievements of Mr Mate Rimac, who produced the fastest electric hyper-car, utilizing new advanced technologies, particularly in the energy sector. Traditionally, Croatia has a rich experience in the electro-energy field, from the development of technology to energy production, and the new LNG terminal hasadditionally put Croatia on the energy map of Europe.
What do you think would be the most attractive industrial sectors for Korean companies to invest in Croatia?
With Croatia's membership in the European Union since nearly a decade ago, the position of the highly competitive Croatian seaportsof Rijeka and Ploče, have come into focus of more and more international shipping companies, due to their proximity to Central Europe and the vast market that comes with it. Through EU membership, Croatia has emerged as a very attractive Gateway to the EU andits 500 million people market.
RimacAutomobili, run by Mr Mate Rimac, has emerged as one of the fastest growing European electric car companies, with both Porsche and Hyundai Motors havingsignificant shares in its ownership. The European Union has recognized the innovative and business potential of the environmentally friendly RimacAutomobili, and has approved a grant investment of €200 million in the construction of the new EU R&D hub for EV batteries, autonomous driving solutions, andthe new EV green energy technologies.
I think that Korean investors and Korean companies might be interested in this highly attractive new business development in Croatia, as well as consider possible investments in the electric vehicle battery production facilities, or automotive-related production.
Croatia is alsoa highly attractive tourist destination and investment in new facilities, tourist 5-star resorts, and new innovative services is more than welcome. The fact that 40 percent of the properties along the Adriatic Sea have been bought by foreigners in the past year, suggests that it is a perfect time for investment in this area. In 2019, more than 20 million foreign tourists visited Croatia, spending more than an accumulated 110 million nights. Keeping in mind that Croatia has a population of only 4 million people, it is quite a remarkable achievement. Medical tourism, as well as the cosmetic and beautyindustry are also rapidly growing, and Croatia welcomes any possible Korean interest for business cooperation in this area. Croatia alsohas a strong pharmaceutical industry, and the production of medical goods and equipment, which might also be an area for stronger Croatian-Korean business cooperation.
Please introduce outstanding Korean companies in Croatia.
All major export-oriented Korean companies are present in Croatia, and Croatian customers are very familiar with high-quality Korean products. Hyundai and KIA cars are at the top of the list of passenger car sales in Croatia. Samsung and LG electronics are widely present in Croatian homes. Korean cosmetic and pharmaceutical companies are very well known in Croatia and their products are very popular. KOTRA has an office in Zagreb and, in a very active way, together with the Korean Embassy in Zagreb, tries to facilitate trade and business cooperation. Through its membership in the European Union Croatia has arisen as anattractive country for their EU HQ, the potential of which has been recognized by more and more foreign companies.
I think that the very important role in encouraging Korean companies to find their business interests and partners in Croatia has also been done by KOIMA. This year from 23-25 June, at the regular KOIMA fair, Croatia will have a stand and present the number of Croatian companies and business opportunities, and we gladly invite all Koreans who might be interested to learn more about the presented Croatian products, but also about the Croatian-Korean business trends and trade or investment projects. We are very grateful to the new President of KOIMA Mr Kim Byung-kwan for this opportunity and we highly appreciate KOIMA's permanent support and encouragement in bringing our two countries closer.
Please introduce tourist's attractions in Croatia for Korean tourists abroad.
I am very glad to say that in 2019 almost a half million Koreans visited Croatia and enjoyed the rich cultural and historical heritage, natural beauty, numerous national parks, as well as the excellent food and wine. Before the COVID-19 pandemic, there was a direct flight by Korea Air from Incheon to Zagreb, the capital of Croatia. We certainly believe that the Korean Air will resume these direct flights and continue to serve as the main bridge between our two countries. We are very glad to learn that the low cost air carrier "t'way" has also announced their plans to introduce the direct flights to Croatia, probably later this year. Before the COVID pandemics, the largest number of foreign tourists in the city of Zagreb were the Koreans – and this was a wonderful case of the people-to-people contacts.
Croatia has around 1,700km of the basic coastline along the Adriatic Sea, with numerous ancient cities, many of them built during the Old Roman period, almost two thousand years ago. Croatia is blessed by the beautiful nature and biodiversity, and by the paradise archipelago of more than thousands of islands. The most attractive destination for Korean tourists is the ancient City of Dubrovnik, a beautifully preserved renaissance town, surrounded by massive city walls, and has the well-deserved title of thePearl of the Adriatic. Dubrovnik has become even more popular after it served as a film-making destination for manyHollywood productions – Game of Thrones, Star Wars, Robin Hood, and others. A number of highly popular Korean dramas, reality and travel-show productions were also filmed in Dubrovnik as well as in other Croatian cities, and have significantly contributed to the overall popularity of Croatia as an attractive tourist destination. Korean visitors also enjoy the Plitvice Lakes – the UNESCO protected unique natural phenomenon with 16 crystal blue and green mountain lakes mutually interconnected by waterfalls. From the top lake to the bottom one is 1,000m. Croatia also offers unique landscapes, from the 2,000m mountain ranges and peaks with astonishing views, to the gentle green hilly areas with medieval castle-style small towns at the top of them, such as in Istria.
Koreans are also more and more interested in buying properties in the tourist regions of Croatia, due to their still lower price and affordability, and their prestigious locations. I think that this is an excellent trend and another step in strengthening our friendly bilateral connections. In the recent years, Croatia has also been very well profiled as the highly attractive retirement destination, due to the very nice climate and healthy environment, low costs of living, and high level of services, especially medical. The foreign investors are looking for possible locations to build retirement villages and resorts. On the other side, Croatia has introduced the new Digital nomads' visa model that allows any foreigner to stay in Croatia for one year without paying any job related taxes if they work for the foreign companies based out of Croatia.
Please introduce about the annual Korean-Croatian Business Forum:
purpose, participating companies, major issues agreed and discussed to date.
Each year, the Korean Embassy in Zagreb and Kotra, in cooperation with the Croatian Chamber of Economy, Croatian Korean Business Club, and relevant Croatian business and trade institutions,and our Embassy in Korea, organizes the Korean-Croatian Business Forum in Zagreb, to bring together a number of companies, investors, government representatives and trade and business professionals to meet and talk the possible mutual trade and business projects. With an extensive media coverage, this Business forum is also a good opportunity for Korean companies to present themselves and their products, solutions and services to the Croatian and European market. The Forum is regularly attended by the Croatian government high officials, representing all major trade, business and investment institutions and it has a high business profile.
A number of Croatian companies that are already involved in the business and trade cooperation with Korea are also the members of the Croatian-Korean Business Club that was established in Zagreb eight years ago, as an active and professional business promotion and networking institution, led by Mr ZoranHorvat who has more than three decades of successful business experience with Korea.
In November last year, the large Korean business delegation went to Croatia to participate at the Korean-Croatian Business Forum in Zagreb, led by Mrs Soonyoung Redden, the Embassy project manager, and by the President of KOIMA Mr Hong Kwang-hee. In addition, they had meetings with the members of the Croatian Government and main business and trade representatives, and they have additionally facilitated trade and business cooperation between Korea and Croatia. Mrs Victoria Hwang, as the Chairwomen of the newly established the Korean-Croatian Business-Innovation Club has led the Korean business group and very actively participated at the Korean-Croatian Business Forum.
For autumn this year in Seoul, we plan to organize the Croatian-Korean Business and Investment Forum with the attendance of Croatian business representatives, and trade-business and innovation institutions. In addition, during these days we plan to organize the presentation of the top quality Croatian wine with the wine testing event.
Please let us know your point of view on how to strengthen further the close economic and cultural ties between Croatia and Korea in the years to come.
I think that people-to-people contacts are always of utmost importance. If we encourage mutual visits, people learn more about the potential for business and culturalcooperation. Therefore, it is crucial to revive the tourism industry and these mutual connections, from both sides. With the revival of direct flights andthe stronger interest of travel agencies with attractive promotional packages, supported by serious public and media promotions and presentations, it could be achieved in the interest of both countries.The tourism industry is also under pressure to permanently offer new and innovative services, and the well-known Korean ingenuity, creativity, and top-class technically advanced solutions could find clear business interests in Croatia.
Wesincerelyencourage Korean companies to develop their European business interests in Croatia. The excellent transport connections of Croatia with the rest of Europe's capitals are certainly an additional impetus. I firmly believe that Korean companies, if properly informed, would be interested in the innovative top-class ICT ecosystem and EV technological solutions, like those developed by Mate Rimac, and number of new start-up companies that have emerged in Croatia and would assure high-quality cooperation. Croatia is interested to establish the joint Korean-Croatian Business-Innovation Centre, as the high quality "knowledge-to-innovation" – "innovation-to-industry" institution, but also as a highly visible high-tech display platform for the Korean business and its excellence to the whole European Union.
I am glad to say that we are witnessing a rapidly rising interest for the stronger collaboration and I am confident that the business-trade-investment bridge between our two countries will emerge in the coming years as much stronger and wider.Croatia as the EU member state with its perfectly located seaports, and as a logical "Gateway to Europe", indeed, could be very well positioned, not just as the import direction for the Korean products, but also as the highly attractive display-podium or exhibition-stage to present the Korean products and Korean excellence to the whole EU common market. With more than 20 million foreign visitors in Croatia each year, this visibility is even much bigger.
저작권자 © 서울시티 무단전재 및 재배포 금지