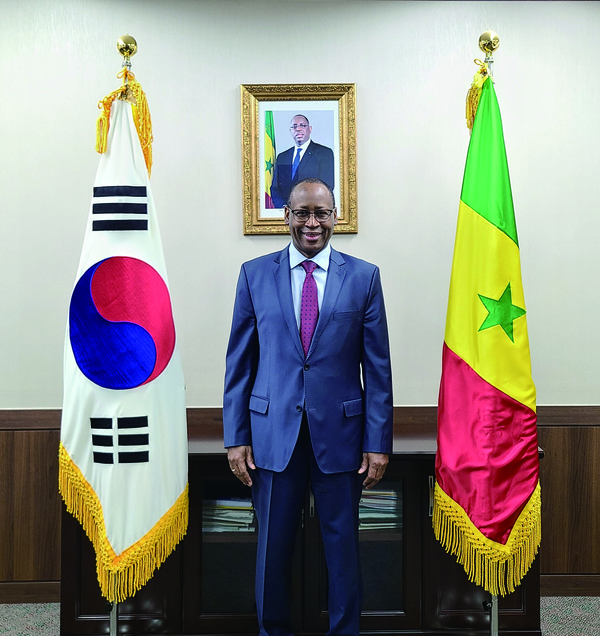 On the special occasion of the 60th anniversary of the establishment of diplomatic relations between Korea and Senegal, the 'Seoul City' interviewed H.E. Abdou Salam Diallo for the autlook of much closer relations for another 60 years in the years to come.
Q. Please tell us, on the occasion of the 60th anniversary of the establishment of diplomatic relations, a brief history of diplomatic and economic relations between the two countries and the significance of your Independence Day for our readers.
In 1960, only two years after its accession to international sovereignty, Senegal established diplomatic relations with Korea, based on friendship and mutual respect.
Overcoming various challenges, these relations laid a solid foundation over time, under the guidance of the leaders of both countries who spared no effort to promote them.
Indeed, all the four (4) Presidents of Senegal, without exception, came to Korea to express our friendship to your country. On the Korean side, President CHUN Doo-Hwan, Prime Minister LEE Hae-Chan and several other high-ranking officials reciprocated by visiting Senegal.
This year, we celebrate the sixtieth (60th) anniversary of the establishment of these relations that our two countries are maintaining in a spirit of cordiality. Based on mutual trust, we developed a multifaceted cooperation which resulted in the realization of several important projects.
Indeed, many projects were implemented through the Korea International Cooperation Agency (KOICA) and other cooperation bodies in order to improve access to basic social services, profitability of agricultural and economic activities, as well as capacity building for certain government officials. In addition, major structuring projects also emerged, thanks to financing from the Korean Export-Import Bank (KOREA EXIMBANK) within the framework of the Economic Development Cooperation Fund (EDCF).
Among them, the maritime infrastructure and equipment projects (MIEP 1 & II)) are good examples.
The first phase of these projects (MIEP I) involved the acquisition of two ships, AGUENE and DIAMBOGNE, to connect Dakar and Ziguinchor, and the construction of the Ndakhonga passenger terminal and a refrigerated storage facility in Ziguinchor for a capacity of 2,000 tons.
Merged in a strategic partnership, for the period 2016-2020, the bilateral cooperation had increased access to significant funding for the realization of several other projects.
As a result, Senegal acquired, within the framework of the second phase of the MIEP (MIEP II), a dredge, two tugs and two barges, for the maintenance of the waterways, particularly in the Casamance river and the Saloum strait, not to mention a hydrocarbon terminal equipped with a storage area and a loading-unloading system.
In addition to the MIEP I and II, 55 refrigerated trucks were provided to Senegal and three fish markets were constructed through cooperation with Korea. The following on-going projects also merit our attention:
-construction of a refrigeration complex in Hann;
-construction and equipment of the National Oncology Center which is officially launched, on October 30, 2021, by President H.E Macky SALL;
-extension and maintenance of the government's intranet network.
Moreover, there are other major projects which are under consideration and will be launched very soon, thanks to the signing, in March 2022, of the bilateral framework agreement for an amount of USD 500,000,00. Among them, we are looking forward to :
-acquisition of two transport vessels to improve the Dakar-Gorée connection, with the construction of appropriate infrastructure (pier, administrative buildings, etc.) coming up to safety and security standards;
-strengthening maritime logistics for the islands in the Sine-Saloum Delta area;
-construction of two bridges, in Ziguinchor and in Tobor.
All these projects testify solid bilateral relations based on trust that our two countries have built through sixty years of friendship.
Therefore, the year 2022 not only celebrates the maturity and solidity of these relations, but also marks the start of a new chapter to diversity cooperation areas into decentralized international cooperation, military cooperation and commercial and cultural exchanges.
Independence Day of the Republic of Senegal (April 4) is, since 1961, the official date celebrating the Country's accession to international sovereignty. Every year, a commemoration ceremony with a civil and military parade is organized in Dakar by the Defense and Security Forces.
Similar ceremonies are also organized in other big cities by the local and regional authorities. This day counts among the most important event of the year. This wide mobilization of all sections of the nation reveal, in many ways, its national character and importance for the Senegalese Government, Administration and People.
The celebration ceremony is often associated with the presentation of decorations of national orders.
Q. Please explain investment environments of Senegal for Korean potential investors and any special favors to foreign investors.
Senegal has always attached great importance to the promotion of the private investment by establishing an advantageous regulatory framework and enabling environment for business.
For instance, Senegal is a stable and open country presenting a low level of risk. This peaceful situation helps the country to create a profitable business environment contributing to the increase of the flows of Foreign Direct Investments to the country.
Senegal is also a place where any investor, without distinction of origin, is free to settle, prosper and repatriate capital. Associated to the dynamism of the investment promotion system, free competition and incentive regulation and legal framework create a healthy business environment. These factors make Senegal a land of huge opportunities where business environment is favourable and constantly improving.
These efforts to promote Senegal's attractiveness as investment destination led to the adoption of Law No. 2004-06 of February 6, 2004, establishing the Investment Code which offers tax advantages through the tax credit and the suspension of VAT.
The tax credit allows companies with an approved program to obtain a reduction in the tax charged by the government, by deducting 40% of the amount of investment from their taxable profit, within the limit of 50% of the profit for new companies and 25% for extension of business. Companies operating in eligible sectors can benefit from a tax reduction for new or additional investment, depending on its amount, 100 million in general, 15 million for SMEs and 250 billion for large companies, and depending on the region where business are established.
The benefit of tax reduction is more important for the investment made outside the Dakar region.
In addition, these companies have the possibility to deduct charges for 5~10 years. Approved companies can also benefit from a VAT suspension on purchases made during the investment phase. It eases their tax burden and allows them to devote their cash only to the expenses for investment.
These advantages are reinforced by the establishment of Special Economic Zones (SEZs). Supported by Law 2017-07 and aligned with international best practices, the incentive system applied to Senegal's SEZs specifies, in particular, the tax and customs advantages offered to the companies benefiting from an authorization issued by the Administrator of the SEZs, in this case the APIX.
In addition, Senegal is a country endowed with a long-standing democracy, political stability, long tradition of peace, tolerance and great cultural values. Senegal is also highly reputed for free and fair elections and peaceful transitions of power. Adding to the quality of its human resources, large advantages are granted to investors through various support and incentive instruments allowing them to create and develop their activities, and guaranteeing the security and prosperity of their investments.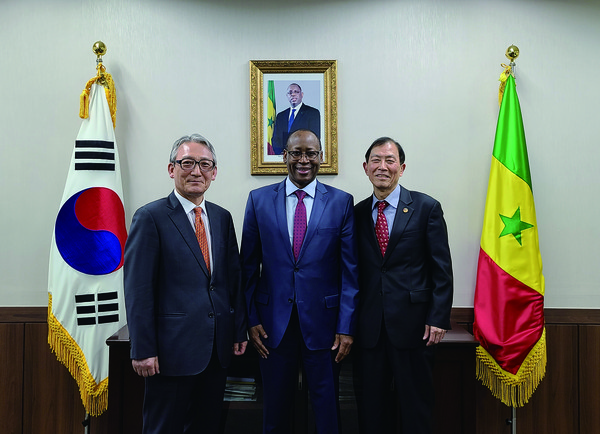 Q. What do you think would be the most attractive industrial sectors for Korean companies to invest in Senegal.
For industrial investment, Senegal focus on the following priority sectors :
Agriculture and agribusiness
Benefiting from almost 4 million hectares of arable land and excellent weather conditions and soil quality, Senegal has a great potential for a wide range of agricultural production, especially in horticulture.
The Government implemented a major national project pursuing self-sufficiency in grain, particularly in rice which has a strategic importance for food security and nutrition supply in Senegal. Senegal hopes that Korean private sector could join Senegal's efforts to satisfy the national demand for food sovereignty.
Seafood product and aquaculture
Numerous opportunities also exist in the production and processing of various marine products. Senegal is one of Korea's main supplier of hairtail, one of the most preferred fishes by the Korean consumers.
Companies in this sector are still looking for foreign partners to modernize their practices, increase production and satisfy a large demand for processed seafood meeting the standards of the European, American or even Asian markets.
Mining
In Senegal, the mining sector offers large potential for private investors. Except for phosphates, gold, zirconium and industrial limestone, Senegal's mining potential remains largely under-exploited.
To develop all the available mining resources, Senegal implements a vast rage of policies to open this sector to foreign investment. These policies aims at improving the yield of extractive activities, attracting national and foreign investors and, above all, ensuring production to generate wealth and create sustainable and decent employment.
The Senegalese subsoil contains a wide variety of mineral resources: iron, gold, copper, peat, chromium, phosphate, ceramic, industrial clays, ornamental stones (marble, granite), heavy sands (ilmenite, zircon, rutile), ultra-fine silica sands (glass-making sand), rock salt, etc.
Senegal guarantees access to these resources for private investors. Due to its promising prospects, the number of large companies investing in this sector is growing.
Oil and gas
Since its independence in 1960, Senegal has begun to explore for oil and gas. These efforts led to significant discoveries in recent years in the oil and gas.
Tourism
Due to its geographical position, socio-political stability and mild climate, Senegal was able to develop tourism as a major national economic activity. Capital of business and congress tourism, Senegal presents real investment opportunities emerging, mainly, in the hotel and leisure sectors.
Digital Economy
Senegal has a promising environment for the development of ICT. Firmly decided to enter the era of the digital economy, Senegal made a major investment for capacity reinforcement and modernization, namely in banking services, mobile banking, mobile money transfer, electronic money services, etc.
Besides these industrial sectors, Senegal also expects from national and foreign private sector significant investment in infrastructure, housing, energy, green economy and green industries. There are still several projects searching for the required investments.
Regarding the infrastructure sector, the Government has an ambitious project to renew 8 railway lines over a length of 2,000 km, among which 650 km need to be rehabilitated. The Embassy intends to meet Korean partners on this particular subject.
Q. Please introduce outstanding Korean companies' activities in Senegal.
The presence of the Korean private sector is growing in the Senegalese market, which resulted in the increases of Korean private investment in Senegal. Today, there are about sixteen (16) Korean companies operating in the fishing sector (fisheries, processing and sales of fish product) with SCASA and CAPSEN (subsidiaries of DONGWON Industries), and GRAND BLEU (subsidiary of Oceans Shipping) in the lead.
Other companies like DARLING and SENECOR GROUP, manufacturers of artificial hair, are also showing great performances, as well as those who are in the catering or other service sectors.
In view of the existence of these great potentials, a lot of efforts can still be made in Senegal. This is the reason why the Embassy is planning to organize, during the year, if all the conditions are met, an economic forum. This forum will provide an excellent occasion to share the investment opportunities in Senegal with the Korean companies and connect them with their Senegalese counterparts so that they could develop fruitful partnerships.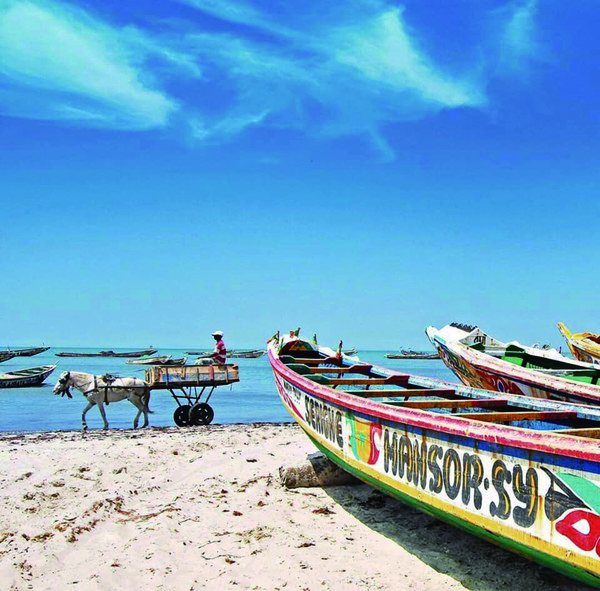 Q. Please introduce tourist attractions in Senegal for Korean tourists abroad.
With temperatures varying between 18 and 40° throughout the year, depending on the seasons and localities, Senegal has a multitude of tourist, natural and historical attractions.
First of all, Dakar, capital of the country, is a lively, colorful and cosmopolitan city where you can get lost while strolling through one of the best markets and bazaars in West Africa. We cannot forget the beautiful beaches and excellent seaside restaurants where you can enjoy the warm sunshine and delicious seafood all year round. You can even learn to surf on the waves around Ngor beach, as Dakar is one of the most well-known destinations for surfing in Africa.
You can also spend a day on the Gorée island and learn more about the tragic history of the slave trade on the African continent by visiting the house of the slave.
Located less than an hour from the capital, the famous Lake Retba, better known as "Lake Rose", is also a wonderful destination for a day trip. You will be amazed by the contrast made by the mountains of salt packed on the shores of the lake, the pink reflection of the lake produced by the concentration of salt in the water and the golden sand dunes on the other side of the lake.
Next to Dakar, the city of Saint-Louis, listed as a UNESCO World Heritage since 2000, is preserving the African and European colonial history with many buildings with ancient architecture.
Surrounded by palm-fringed beaches in a sunny climate, Saint-Louis is one of the recommended places to enjoy the best Senegalese gastronomy. A national dish, "Thieboudiene" meaning "rice with fish", became also a UNESCO World Heritage in 2021. Coming back from Saint-Louis, do not hesitate to spend a day or two discovering the Lompoul desert for hiking in the sand, riding on a camel and dining under the stars.
Senegal also has plenty to offer for those who love wildlife. Located in the north of the country, Djoudj National Park is a bird sanctuary where 300 species are recorded including flamingos and pelicans.
Niokolo-Koba National Park, Senegal's largest national park, is home to lions, warthogs, monkeys and hippos.
A good way to end your stay in Senegal would be to spend a few days in Mbour or Saly, located less than half an hour by highway from the airport. You will have the opportunity to enjoy the last moments of your stay at the beach, sunbathing and drinking a glass of fresh Senegalese juice. Made from infusion of hibiscus, Bissap is a Senegalese traditional drink perfect for hot temperatures or after spending time in the Lompoul desert
Q. Please let us know your point of view on how to strengthen further the close economic and cultural ties between Senegal and Korea in the years to come.
Our bilateral cooperation has produced significant outcomes demostrating the convergence of our views on international issues and the dynamism of our economic relations. Established on October 19, 1962, diplomatic relations between Senegal and Korea continue to substantially develop through productive cooperation in both political and economic domains.
However, there are still room for improvements, given that our bilateral cooperation does not fully live up to expectations, despite huge efforts made for the past years. There exists many under-exploited possibilities of cooperation in various sectors where we could redouble our efforts. For example, we can further strengthen collaboration with Saemaul Undong in agriculture or join our efforts to fight against COVID-19 in the public health sector. Senegal invites the Korean private sector to contribute to the implementation of the second phase of the Emerging Senegal Plan 2019-2023, and to make Senegalese artwork and products better known in the Korean market.
At the political level, the bilateral relations could be shored up by cooperation in the domains of green economy and climate change. Korea has already laid out the "Korean New deal" which is a great national strategy based on two pillars: the "Digital New Deal" and the "Green New Deal". Senegal intends to cooperate with Korea, in both areas but more specifically in the green strategy.
Moreover, cultural cooperation could be expanded by exploring artistic and cultural potentials of both sides
Finally, the organization of a Joint Commission for Cooperation in Dakar could give a fresh impetus to our bilateral cooperation. We hope that it could be held as soon as the conditions for a face-to-face meeting are met.
저작권자 © 서울시티 무단전재 및 재배포 금지