Biography of H.E. Ali Magashi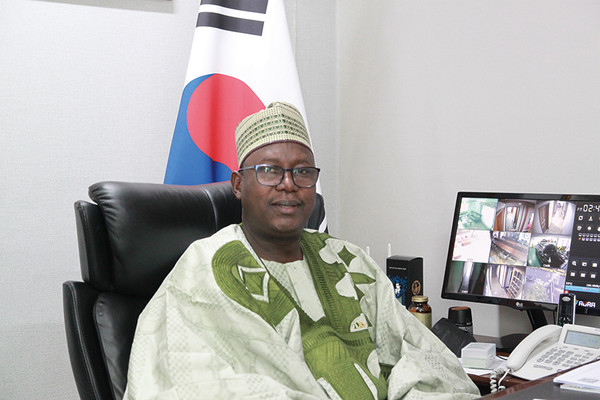 Ambassador Ali Magashi is a graduate of Aeronautical Electronics and Telecommunications Engineering, an air traffic engineer, a licensed Avionics engineer (X-Electrics & Instruments), a licensed flight engineer with over 5,500 flight engineer hours; he was a former instructor and national examiner on the Boeing-727 aircraft.
He founded Kitari Systems Ltd in 1998, an ICT company that among many other projects, successfully provided the local content in the design, site surveys, financing and implementation of the first Broadband Wireless Teleport in West Africa, the Jigawa Wireless Broadband Network (Jigawa Galaxy ITT) in 2001.
After his Post Graduate Diploma in Management and Masters in Business Administration (Finance) in 2002, he ventured into Mortgage Banking as the MD/CEO of Jigawa Savings and Loans Ltd from June 2003 to June 2007, and while there, he successfully turned around the moribund and obscure outfit into a national household name in Mortgage Banking, creating the largest single pool of NHF perfected mortgages till date.
Ali held the position of Deputy President of the Mortgage Banking Association of Nigeria (MBAN), and was in many state and federal government committees on Land Reforms, Housing Finance and Urban Renewal; he was a member of the Washington DC Nigeria/USA roundtable on the reforms of the Nigeria Affordable Housing and Mortgage Markets.
He was a consultant to the World Bank/IFC on Land Reforms, Housing Finance and Urban Renewal, and Doing Business in Nigeria. He was also the pioneer Aviation Consultant and Advisor to the Asset Management Corporation of Nigeria (AMCON) on the restructuring of its aviation eligible bank assets (EBAs) portfolio, the largest Aviation consulting portfolio in West Africa).
Ali is an alumnus of many executive management and leadership programs at Harvard Business School, Wharton School, INSEAD Business School and many other institutions; he teaches Mortgage Finance and Real Estate Management to MBA students at Bayero University Business School.
He is currently the Chairman, Board of Directors of Aso Savings and Loans Plc, Nigeria Agricultural Insurance Corporation, Countrywide Housing Company and the Executive Chairman of Kitari Consult Ltd, a management and aviation consulting firm. He is also on the boards of Arik Air and Aero Contractors airlines.
Ali speaks English, French and Hausa fluently and he is now the Ambassador of Nigeria to the Republic of Korea.
The significance of Nigerian Independence Day
On 1st October, 1960 Nigeria gained independence from the British led colonial administration. The Independence Constitution of 1960 adopted a parliamentary democracy which brought about the first Prime Minister, late Sir AbubakarTafawaBalewa while H.E. late Dr. NnamdiAzikiwe was the Governor-General.
The significance of this event cannot be over emphasized to all lovers of freedom. It was the occasion that set the pace for Nigerians to take the center stage to steer the ship of the country to its enviable stage that it has now attained. It was the beginning of the movement that enabled Nigeria to achieve the giant strides it has achieved at domestic and international scenes.
Investment in Nigeria for potential Korean investors:
The Nigerian government is prioritizing investment in Agriculture. The main food crops that can be produced include – beans, maize, rice, yams, cassava, millet, sorghum, potatoes, plantains, soybeans and melon, Cash crops include– cocoa, cotton, rubber, groundnuts, palm kernels, sesame seeds, cashew nuts, kolanut and gum Arabic.In addition to farm production, there are immense opportunities available for agro-processing particularly of citrus fruits such as oranges, lemon, grape fruits, tangerine and also mangoes, guava.
Manufacturing and solid mineral development areas:
Gold processing, Processing of salt from sea water, timber/wood processing, Stone cutting/polishing, Over Forty four solid minerals found in commercial quantities are spread across the 36 states of the federation and FCT, Abuja.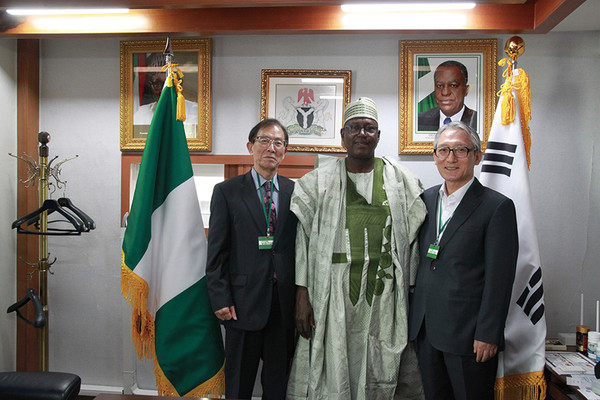 ICT related investment:
Nigeria is the Centre of ICT development in the West Africa sub region. It also remains a major investment destination for ICT in Africa.Opportunities exist for entities active in: Data Centre deployment and management,Application hosting /Cloud computing,Business continuity/ Disaster Recovery,Internet Service Provision and information security.
Power Sector:
Nigeria has huge potentials for investment and a range of natural resources for power generation, distribution and transmission.Presently access to power is limited to only 55.6 % of the population and power supply averages 3,500 MW versus a suppressed demand that is estimated at 10,000 MW daily.Government target in this sector is to achieve up to 75% access to electricity connecting an average 1.5 million households annually.
The resources that are largely untapped are hydro power, solar, wind, and biomass – animal waste. Huge investment opportunities abounds in Liquefied Natural Gas Resources which can be used for power generation.
Outstanding Korean Companies in Nigeria:
It is worthy to note here that Korean conglomerates have presence in Nigeria and they include: Hyundai, which was involved in the repairs of some Nigeria's refineries, building of some oil rigs and platforms among other economic activities. Daewoo Engineering and Construction participated in the development of the Liquefied Natural Gas project and particularly gas line construction. Samsung is actively involved in the oil and gas as well as the telecommunication industry. LG is also involved in the communication industries including mobile phones and house hold electronic appliances. The Korean transnational corporations continue to enjoy extensive patronages among the large Nigeria population.
Tourism in Nigeria:
Some tourist destination sites and festivals in Nigeria are: Yankari games reserve, Bauchi State; Olumo Rock, Ogun State; Zuma Rock, Niger State, Ushafa pottery Centre, Abuja; Osun -Osogbo Sacred Grove, Osun State; the Ogbunike Cave, Anambra State; Argungu Fishing festival, Kebbi State, Durbar in Kano State and other places, Lagos Bar beach, Lagos State, Calabar Carnival and Obudu Mountain Resort, Cross River State, confluence resort in Lokoja, Kogi State etc. It is imperatively informative to stress that many of these tourist sites have already been listed as UNESCO heritage sites. One of the unique by- products that tourists enjoy in Nigeria is the irresistible Nigerian cuisine: from pounded yam to tuwonshinkafa, from amala to the authentic Nigerian jollof rice. From miyankuka to edikanikongand ewedusoup, from okro soup to afang soup and the list goes on.
How to strengthen Economic ties between Nigeria and Korea:
It must have to be a multifaceted approach from both sides of the aisle. It should be expected that the Korean Ambassador to Nigeria should continue to sell Korea in the most attractive fashion to Nigerians and through deepening the much needed synergy by encouraging partnership between Nigerians and Korean businesses.
At the Embassy here, efforts would continue to be hyped to inform Korean investors to look towards Nigeria. Many Korean business men and women have the tendency to miss opportunities hidden in our challenges be it infrastructural deficit, security related areas, electricity etc. The drawback with such thinking, is that while they are waiting for such challenges to be overcome before they come, by this time, the market would have been saturated and dominated by the savvy investors who participated in solving the challenges while reaping huge profits in the process.
Media outlets surely have an important role to play here. To educate the Korean business men and women so that they do not miss these investment opportunities coded as challenges.
저작권자 © 서울시티 무단전재 및 재배포 금지