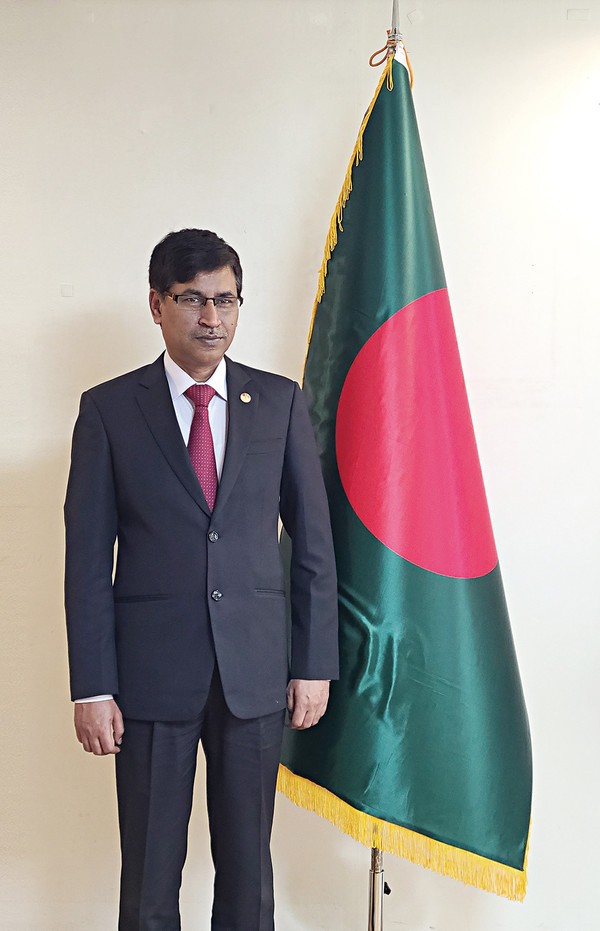 On the special occasion of the independence day of Bangladesh, the 'Seoul City' interviewed H.E. Delwar Hossain for his point of view on how th strengthen further the bilateral economic ties between Bangladesh and Korea.
Q. Please introduce the significance of your Independence Day, March 26th
26th March is the Independence and National Day of Bangladesh, a glorious day in nation's history. It bears great significant to the nation. Three million people had to sacrificed their lives in the 9-month long blood-spattered Liberation War in 1971 under the leadership of the Father of the Nation Bangabandhu Sheikh Mujibur Rahman in pursuit of the long-cherished dream of 'Sonar Bangla'-an independent and prosperous country; free from discrimination, subjugation, and injustice.
Bengal was a prosperous area and an important hub for international trade and cultural exchange in pre-colonial era. However, centuries of colonial rule turned the most prosperous region of the world into one of the severely impoverished localities on the earth. Apart from limitless exploitation and absolute denial of our rights, the colonial powers also continuedtheir attempts to suppress our creativity and cultural identity. Our peaceful struggles and demands for due rights werealways responded by armed suppression. The landslide victory of Awami League, political platform of Bangalees, at the general elections of Pakistan in 1970 raised some hope. But the optimism soon evaporated. Instead of handing over the power to the elected representatives, themilitary regimeunleashed a brutal onslaught named "Operation Searchlight" on innocent and unarmed Bangalees on the dreadful night of 25 March 1971. In this backdrop, we had no choice left but to go for an armed resistance and liberate the country in response to the clarion call of the Father of the Nation.
We paid a very high price for our independence. The united efforts and firm determination enabled us emerge victorious on 16 December 1971 and ultimately take charge of our own destiny. The Independence Day remains as a symbol of Nation's aspiration, unity, and resilience as well as ouruncompromising stance against repression and injustice.
Last year, we celebrated the "Golden Jublee" (50th anniversary) of our independence. We draw inspirationsfrom ourpast achievements in various socio-economic fields to make a bigger stride under the visionary leadership of Prime Minister Sheikh Hasina towards the cherished dream of 'Sonar Bangla'.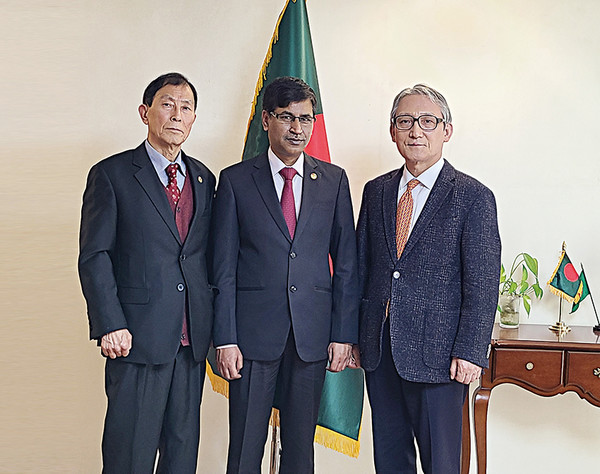 Q. Please introduce most promising products of Bangladesh
Bangladesh started its development journey in 1971 from scratches. Agriculture still remains a key sector in Bangladesh. Though agricultural output quadrupled in last five decades, sector's share to GDP decreased from about 60% in 1971 to only around 18% now-a-days due to phenomenal growth of industry and service sectors over the years. Most of the daily-life industrial products need of our 170 million people is met by local companies. On the other hand, Bangladesh's export earnings witnessed tremendous growth in recent years owing to rapid expansion of the export-oriented manufacturing sector. Although textile & apparel products, contributing 84% of overall exports and 16% of GDP in 2020, remains predominant in the country's export earnings, other productssuch as pharmaceuticals, ceramic tableware, plastic and ceramic articles, leather products, cement, ship, agro-products, jute and jute products, software & IT solutions, home appliances, electrical gadgets, ships & vessels, light engineering products are emerging progressively and contributing significantly tothe export portfolio. The major export destinations of Bangladeshi products are European Union, USA, Canada, Japan and India.
The Republic of Korea is also one of the major trading partners of Bangladesh. The volume of the bilateral trade crossed US$ 2 billion markin 2021, when Bangladesh's export to Korea increased by 35.8 percent to $498 million and Korea's export to Bangladesh increasedby 61.9 percent to $1.51billion. The major export items of Bangladesh to the Republic of Korea include-woven garments, knitwear, home textiles, leather, and leather products including, footwear, frozen food, ceramic items, pharmaceuticals, jute & jute goods, tents, synthetic ropes. A comprehensive partnership with preferential trade arrangementsand a deeper collaboration in value and supply chain can contribute towards sustainable growth in bilateral trade between the two nations.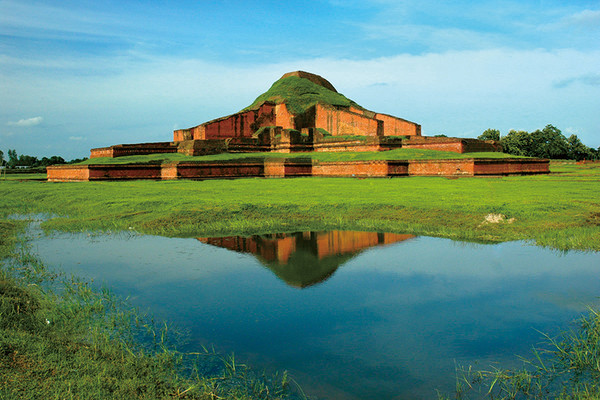 Q. Please let us know what industrial sectors would be most attractive to potential Korean Investors to Bangladeshi and also introduce investment environment of Bangladeshi for Foreign Investors.
Thanks to the accelerated economic growth, burgeoning domestic market and competitive human resources, Bangladesh has turned out to be a lucrative destination for foreign investments in a number of potential industrial sectors. Consumer electronics and home appliancesareamong the fastest growing industries in Bangladesh with great potential. Size of the local home appliance market is expected to reach to US$10 billion annually by 2030. The sector is still dominated by local companies. Samsung and LG have recently set up manufacturing/assembling plants in Bangladesh in collaboration with local partners. The ICT industry is a thriving sector of Bangladeshunderpinned by a sizable pool of IT professionals, reliable ICT infrastructure, and strong government support. The industry targets a US$ 5 billion worth of ICT product/service export in 2025. The Korean ICT companies may take advantage of the existing facility and potential and invest in the ICT/hi-tech parks and R&D centers in Bangladesh. Samsung is operating an R&D centre in Dhaka since 2010 with over 500 local IT engineersto meet a part of their software needs. Pharmaceuticalindustry, with a market size of US$3 billion, is one of the most developed sectorsin Bangladeshcatering to 97% of the domestic demands and exporting medical products to more than 140. However, given the industry's heavy reliance on import of raw materials, Bangladesh is considering to establish active pharmaceutical ingredients (APIs) industrial park in the country. The Korean Pharmaceuticals Company may come forward with technical know-how and technology to invest in Bangladesh'sAPI industrial parks. Light Engineering is another thriving sector in Bangladesh with the presence of over 50,000 local companies. The export earnings of this sector in FY2020-21 grew by 67 percent YOY to reach USD 489 million. The sector set export target of US$ 9 billion by 2030 and US$ 15 billion by 2041. Bicycle accounts for almost one-fourth of total export with potential to grow further following the demand of environment-friendly transports. Bangladesh leather industry is well established and ranked second in terms of export earnings. With growing domestic market worth US$ 2billion, the industry has already been declared a top priority sector owing to its high value addition, huge growth and employment opportunities. Bangladesh accounts for 3% share in the global leather and products market and enjoys growth of 15% per annum. Shipbuilding is another promising sectors in Bangladesh with the presence of around 100 ship builders and over 120 registered shipyards of different size. Most of these shipbuilders mainly producesmall and medium vessels with a capacity up to 35000 DWT (dead weight ton). A handful of shipbuilders are producing medium size maritime vessels of international standard for overseas clients. Korean shipbuilding companies may invest in the knowledge sharing and technology transfer for the development of the shipbuilding sector of Bangladesh. Automobile sector has a great potential; given the growing demand of personal and public transport vehicles as well as of SUVs and MPVs for economic and development activities.In view of the huge market potential, some local companies are in the midst of setting up manufacturing plans in collaboration with foreign entities. Samsung is setting up an electric vehicle manufacturing plant in Bangladesh in partnership with a local company. Hyundai reportedly considers establishment of a special-purpose vehicle manufacturing plant in Bangladesh. Cement industry has tremendous potential. Total 32 cement factories including 4 multinational plants are producing around 30 million tons of cement annually. Demands in local and international market are persistent growth. Steel sector has huge potential in the backdrop of ongoing infrastructure projects and rapid industrialization. Bangladesh is still heavily on import. Infrastructure sectorunder public-private partnership is another important potential sector for foreign investment in Bangladesh. Owing to the phenomenal economic growth,Bangladesh now prioritizes industrialization, innovation and infrastructure development for further development of its economy going forward. The government has undertaken numerous mega projects in infrastructure development which are expected to bring transformational impact on accelerating the economic growth and upgrading living standard of the people.
To accommodate and ensure inflow of foreign investments, the government is in the midst of establishment of 100 special economic zones and high-tech parks throughout the country. Again, the government is also providing various fiscal and non-fiscal incentives, privileges and facilities comprising of exemptions/reduction of corporate income taxes, reduced import taxes on capital machineries and raw materials, reduced VAT, provision of export subsidies and various other banking facilities and privileges to facilitate and encourage the foreign investments.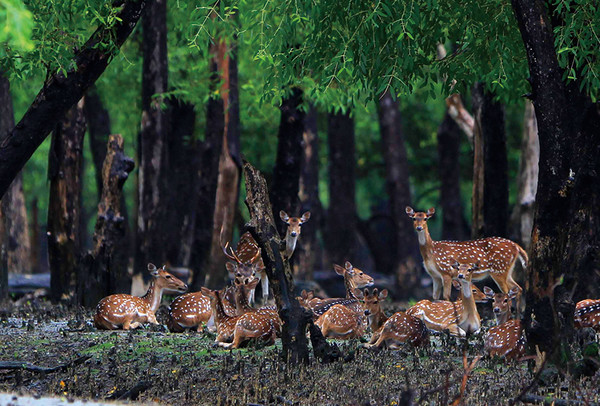 Q. Please Introduce Outstanding Korean Companies' activities in Bangladesh.
The Korean investments Bangladesh dates back to early 1980's with the establishment of an exclusive foreign Export Processing Zone (KEPZ) in Bangladesh. The Korean investment in Bangladesh was primarily concentrated in the textile and garment sector. However, the current Korean investments are widely diversified in a variety of other sectors which include- ICT, infrastructure, automobiles, electronics and home appliances. More than 150 Korean companies have notable presence and activities in Bangladesh. Most recently, the Korean tech giant Samsung and Hyundai have started establishing assembling plants in Bangladesh in partnership with the local companies for some of their products like mobile phones, home appliances, and automobiles. The Republic of Korea is the fifth largest investor in Bangladesh with a cumulative Foreign Direct Investment (FDI) stock of US$ 1227.32 million.
Korean companies are involved in the implementation of key infrastructure projects in Bangladesh for long time. At the moment, the world-renowned Korean engineering and construction companies undertaking large-scale infrastructure projects, such as power plants, airport terminals, and hospitals.
Q. Please introduce Tourists attractions in Bangladesh for Korean Tourists abroad?
Bangladesh, situated in the northeast part of South Asia, nestles between the Great Himalayas on the north and the Bay of Bengal on the south. Bengal's fertile alluvial land and wealth, cultural advancement and geostrategic location beckoned many travelers, scholars, traders and rulers from different corners of the world through the ages.
Bangladesh has a host of diverse tourist treasures to offer to international tourists which include more than seven hundred tourist interest spots including three (03) UNESCO world heritage sites. Bangladesh's tourist attractions include sea beaches, green valleys, forests, archeological and historical sites and cultural events. Thus Bangladesh is a unique tourist destination in the touristic circuit with an assortment of all kinds of tourist interests.
A plethora of tangible and intangible heritage of magnificent ancient civilizations of various eras spread around the country attest to the glorious historical and cultural legacy of this region. Bangladesh, a rich repository of South Asian Buddhist heritage and the birthplace of great Buddhist Scholar Atish Dipankar, possesses remains of the Buddhist monasteries dating back to the 3rd century B.C. The notable Buddhist archaeological sites include Paharpur Monastery, a UNESCO designated World Heritage Site and the largest Buddhist monastery in the Southern Himalayas, Mohasthangarh, the ancient capital of the Pundra Kingdom of ancient Bengal and Buddhist monasteries in Mainamati near Cumilla. Kantajew Temple, a late-medieval Hindu Temple located in Dinajpur, is the greatest example of terracotta architecture of Bangladesh. The historic Sixty Dome Mosque of Bagerhat, a UNESCO designated World Heritage Site, is one of the most impressive Muslim monuments in the Indian sub-continent. Armenian Church inDhaka, a historically significant architectural monument, bears testimony to the existence of the Armenian community in this region in the 17th and 18th centuries.
The Sundarbans, the single largest mangrove forest on earth, is situated on the southwestern edge of Bangladesh. It is a UNESCO world heritage site and a haven of the majestic Royal Bengal Tiger and other rare species of wildlife. Cox's Bazar, the tourist capital of Bangladesh, has world's longest unbroken sea beach attracting thousands of domestic and international tourists all year round. Kuakata sea beach, known as 'Daughter of Sea', is the only beach in Asia that offers a rare opportunity of having a glance at both the sunrise as well as the sunset. Saint Martin's Island with an area of only 3 sq. km. is the only coral island of Bangladesh that offers the view of the scenic beauty of the setting-sun behind the waves of the Bay of Bengal.
The hill districts situated in the southeastern region of the country commands an exotic view of natural beauty comprised of green hills and luminous valleys dotted with enchanting spring and waterfalls and panoramic lakes. Keokradong, the highest recognized peak and Tajingdong, the second-highest peak of Bangladesh are situated in this region.Nilgiri is another place in the region that offers jaw-dropping views of the green mountains and floating clouds during the rainy season.Sylhet region, the northeastern part of Bangladesh, is blessed with the sprawling tea gardens and natural waterfalls offering sensational panoramic view. The panoramic prodigious haors and large water reservoirs provide sanctuary to the millions of cold escaping migratory birds from Siberia. Tanguar haor, the biggest single water body in Asia, and Ratargul Swamp Forest, the sole freshwater swamp forest of Bangladesh, are also situated in this region.
Bangladesh, the world's largest riverine delta, is often called the land of rivers having as many as 800 rivers crisscrossing the land to create the most complex river system in the world. The fascinating scenic beauty of rivers, the riverside villages, and the vast verdant green field have made Bangladesh a unique landscape to explore. Boat races are arranged as a part of selected festivals.
Q. Please let us know your point of view on how to strengthen further the close economic and ties between Bangladesh and Korea.
The bilateral economic relationship between Bangladesh and the Republic of Korea witnessed phenomenal growth in the last five decades with increased bilateral economic and development cooperation. However, there still exists enormous potential and broad prospects in our bilateral economic relationship which need to be harnessed with a spirit of mutual benefit and common development. The complementarities of two economic emanating from the current development trajectoriesof the two economies render huge potential for a comprehensive strategic partnership between the two countries.
Korean investments in Bangladesh are largely concentrated in the textile sector which may be diversified in the potential sectors such as ICT, infrastructure, energy, electronics, automobiles etc. Again, enhanced Korean investments in Bangladesh with buy-back arrangements, particularly in backward and forward linkage industries, could be immensely beneficial for both countries. The Korean investors may avail the opportunity of Bangladesh's huge pool of competent and cheap workforce and the investment-related facilities to establish and expand labor-intensive industries in Bangladesh.
A comprehensive partnership,with preferential trade arrangements,in global value and supply chains is imperative to entail a tremendous boost in bilateral trade. In this regard, Korean companies may consider manufacturing labor-intensive intermediate products/parts in Bangladesh and import the same to Korea for further value addition in the final production lines.
Cultural cooperation plays a significant role in driving bilateral relations forward. Cooperation between Bangladesh and the Republic of Korea in the field of culture is vibrant and ever-increasing. There have been occasional exchanges of cultural troupes between the two countries. The two countries signed the Cultural Agreement in 1979 under which the two countries exchange visits of cultural troupes. During the visit of the former Korean Prime Minister Lee-Nak-yon to Dhaka in 2019, the two countries signed Cultural Exchange Programme for the Years 2019-2023. Both the countries could work closely to increase the frequency of cultural exchanges and effectively use this opportunity to increase the people-to-people contact.
Bangladesh and the Republic of Korea will celebrate the 50th anniversary of the establishment of diplomatic relations in 2023. We seek to cease this momentous occasion to take our relationship to a new height and make it more meaningful to the common people in both countries.
저작권자 © 서울시티 무단전재 및 재배포 금지