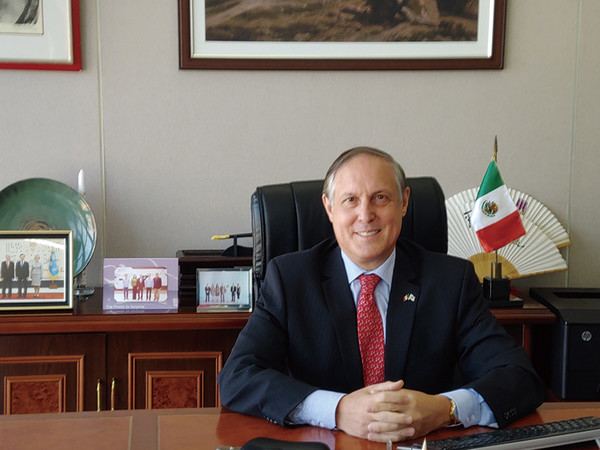 On the special occasion of 60th anniversary of the establishment of diplomatic relations between Korea and Mexico, the 'Seoul City' magazine interviewed H.E. Bruno Figueroa for his point of view on strengthening further the close ties between the two countries. Following are full texts of the interview.
Q. Please introduce brief history of diplomatic and economic relations between Mexico and Korea for the past 60 years.
On January 26, 2022, Mexico and Korea commemorated the 60th anniversary of the establishment of diplomatic relations, but the shared modern history between the two nations begins much earlier, in 1905, with the arrival of more than thousand Koreans to the Yucatan peninsula, Mexico, to work for the henequen haciendas.Today, more than 14,000 Koreans live there. In recognition to the Korean community's contributions to the prosperity of Mexico, every May 4 is marked as the Day of the Korean Immigrants.
Korea opened its Embassy in Mexico in 1962, while the first Mexican representative office was established in Seoul in 1978.
In 1991, Korean president Roh Tae-woo visited Mexico for the first time in history. This visit, the first from Korea to Latin America, opened dialogue at the highest level. To date, ten presidential visits between the two nations have taken place.
In 2005, Mexico and Korea established aStrategic Association for Mutual Prosperity, taking a great leap in their bilateral relations within the political, economic, educational, cultural, scientific, and technological cooperation areas.
The intense political dialogue has extended beyond the bilateral sphere and has been reflected in the formulation of common positions at multilateral forums where Korea and Mexico promote joint initiatives on issues such as peace, security, sustainable development, and international cooperation.
In the economic sphere, the ties began to grow exponentially since the 1990s.The bilateral trade reached more thantwenty-three billion dollars until November of 2021, placing Korea as Mexico's third trade partner, while Mexico is Korea's first trade partner in Latin America and ninth in the world. Korean investment is highly visible in Mexico, through the presence of hundreds oflarge, medium, and small companies.
But beyond the exchanges at the official level, Korea and Mexico share cultural similarities. Both countries have modern societies, with ancient roots and proud of their traditions. These similarities led to increasing person-to-person contacts, including tourists, businessmen and students.
Today, we have a direct flight between Mexico City and Seoul, opened in 2017 by Aeromexico, which has greatly facilitated exchanges between both countries and contributed to increasing mutual knowledge, which will be deepened in the close future.
The commemorative events of the 60th anniversary of our diplomatic relations will be an excellent opportunity to strengthen and consolidate our bilateral exchanges.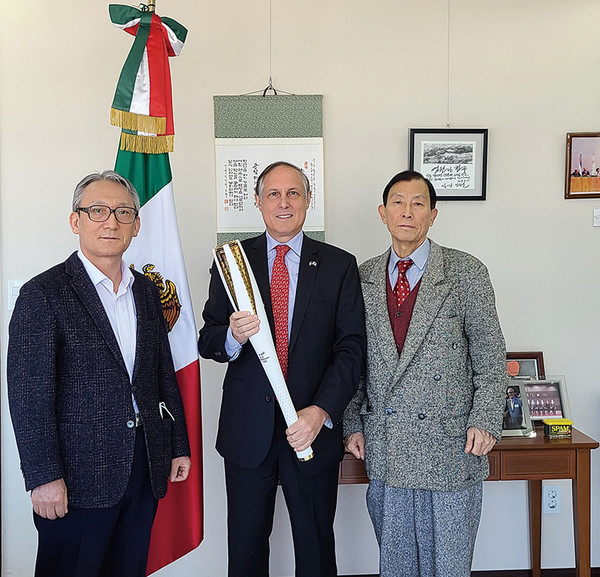 Q. Please introduce any special events scheduled for celebrating auspicious 60-year anniversary this year.
On the occasion of the 60th anniversary, the Embassy has prepared a program of activities throughout the year to promote exchanges between Mexico and Korea.
Last February 6th, the Embassy opened its calendar of celebrations with the "Korea-Mexico 60 Years' Friendship," a gala concert by the United Philharmonic Orchestra, at the Seoul Arts Center. The gala concert included Mexican pieces such as "Cielito lindo" and "Danzon No. 2", which were magnificently performed by the orchestra and conducted by fantastic director Kim Bong-min.
In collaboration with the Embassy of Mexico in Korea, we have published a commemorative book in Spanish and Korean regarding the history of our relationship. The book, coordinated by El Colegio de Mexico, one of our top universities, included contributions from academics, businessmen, and notable members of both countries' societies.
Also, the Embassy is organizing two very important exhibitions this year. One at the National Museum of Korea, from May 3 to August 28, which will include more than 200 historical artifacts from the Aztec civilization, becoming the first time that an exhibition of this type is presented in Korea.
The governments of Mexico and Korea will continue working to recognize the thousands of Mexicans and Mexican Americans who fought and, in many cases, gave their lives for the freedom of the Republic of Korea. In this effort, the Embassy will host an exhibition at the War Memorial of Korea in June, where we will present the participation of soldiers of Mexican origin during the Korean War. We expect the historical visit of some Mexican veterans, who will share their stories with the Korean public.
Another important activityfor 2022 is the convening of the First Summit of Presidents of Mexican and Korean Universities, as an institutionalized forum that can assist in the Embassy's goal to increase our bilateral exchanges. The summit will help to foster the exchange of students between our countries, but also to promote the exchange of teachers and university research.
The presence of Korea in Mexico will be also enhanced. For example, Korea will be the country guest of honor in the most relevant cultural festival of Mexico, called the Cervantino Festival. In this festival, Korea will present many solo artists, dance, and musical groups, from classic to contemporary, as a way to increase and disseminate its culture among the Mexican audience.
Our objectives are clear, we wantthese celebrations to assist in increasing the awareness on our bilateral relation and its potentialities. We want to become closer friends and partners with Korea.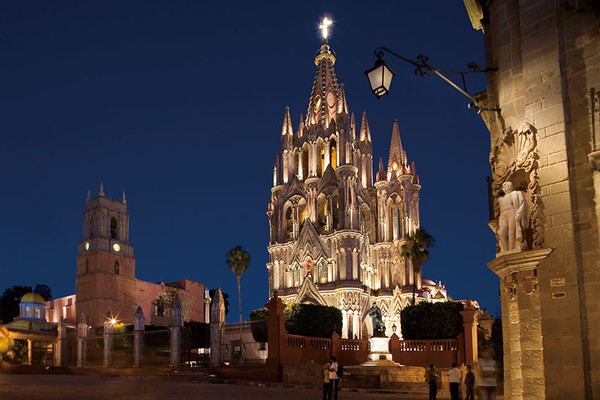 Q. Please let us know what industrial sectors would be most attractive to potentialKorean investors to Mexico.
Mexico's relationship with South Korea is increasingly relevant for my nation's expansion of economic linkages with the Asia-Pacific region.
Korea is Mexico's 3rd largest trading partner worldwide and Mexico is 1st in Latin America for Korea. Since 1999, bilateral trade has grown 9% on average per year. According to the Mexican Ministry of Economy, until November of 2021, the total trade between Mexico and Korea was 23.5 billion US dollars.
Mexico is one of the most competitive countries for productive investments worldwide due to many factors, such as:
·A strategic geographical position
·Competitive costs, with a young and talented population.
·Size and strength of its internal market.
·Macroeconomic and political stability.
·Economic growth.
·Ability to manufacture high technology products.
·Open economy that ensures access to the most important markets worldwide through a network of free trade agreements.
According to the Ministry of Economy, in the past 10 years, the industrial sectors that have received the largest amounts of foreign investment are the Construction Industry; Financial Services; Information Systems; Manufacturing Industry; Mining Industry and Transportation Industry. Although many industries are relevant in Mexico, nowadays, the most prominent are the automotive, aviation and aerospace, medical equipment, textile, and consumer products.
The automotive manufacturing industry, for example, has played a crucial role in the economy of Mexico, at least for the past 30 years. The most important global automotive companies are present in Mexico, including the Hyundai-Kia groupthat launched operations in May of 2016 with the opening of its manufacturing facilities in the state of Nuevo Leon. Today, Kia Motors has placed Mexico as one of its essential operations centers and, only after5 years of producing in Mexico, the company surpassed one million units fully assembled in Mexico.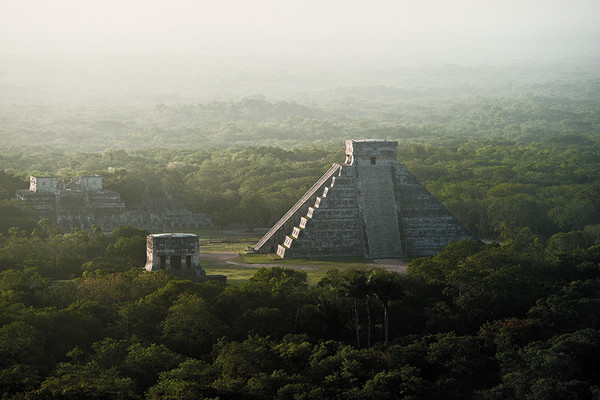 Q. Please introduce outstanding Korean companies' activities in Mexico.
Between 1999 and 2021 (September), Mexico received US$7.8 billion from Korea. 2,048 companies with South Korean origin are registered in Mexico, including Samsung, SK, LG, KIA, KORES, KEPCO, KOGAS, Posco, among many others. Up to September of 2021, Korea remained the 13th source of investment for Mexico worldwide and the second in Asia, after Japan, and the numbers are increasing every month.
The main effect of Korean investments in Mexico has been noted in the expansion of value chains and shared distribution between the two countries, at a time when Mexico is consolidating as a center of industrial production and as export platform to the most dynamic markets of the North and Latin American regions, including the growing purchase capacity of our domestic market. The increase in productive investments of Korean automobile and auto parts companies, manufacturers of household appliances, electronics, televisions, and smartphones, and of those producing industrial inputs and the ones extracting essential mineral resources for said industries make up part of the same logic.
Mexican investment is also present in Korea. While stillemerging, accessof Mexican investments in Korea is gradually growing and, nowadays, companies such as Aeromexico, Envases Universales, Grupo Bimbo, Grupo Promax, Kidzania, Katcon, Vitro and Ultra DM are operating in the country.
Q. Please introduce tourists attractions in Mexico for Korean tourists abroad.
By the end of 2019, 120,000 Koreans visited Mexico, representing an increase of more than 200% when compared to 2014. Indeed, these auspicious figures, registered before the global pandemic, paved the way for the decision of Aeromexico, Mexico's flagshipairline, to open a direct flight between Mexico City and Seoul as of 2017. The introduction of this new direct route attests to the growing ties between Mexico and Korea and will continue to be an excellent tool to boost both ways tourism flows.
Mexico has an exceptionally rich heritage. It is heir to an ancient culture and is a referent in Latin America. We have an enormous diversity of cultural activities, thanks to our tradition of preserving our cultural and artistic expressions that have fostered the conception of Mexico as a nation.
In addition, Mexico's heritage is also comprised by more than 120,000 buildings distributed throughout the entire territory that are considered part of our cultural heritage. To this date, UNESCO has registered 27 Mexican cultural sites and cities, five natural sites and two mixed sites as World Cultural Heritage, making Mexico one of the top 10 countries with the most recognized sites in the world.
The diverse geographical setting of Mexico has allowed the development of great knowledge, traditions and languages in our territory that reflect our natural richness. Understanding this diversity offers a variety of approaches and options to better appreciate the country's value.
If you plan visiting Mexico, I invite everyone to consider these 4 unique destinations that I am certain Korean travelers will find more than appealing:
·The place at the end of the earth: Los Cabos
There's no doubt that one of the most vibrant places in Mexico is Los Cabos, a destination that has managed to reinvent itself and keep up with the taste of travelers in search of comfortable stays, first-class cuisine, as well as adventure and fun in every beach or desert attraction.Visiting Los Cabos will give everybody the opportunity to practice multiple aquatic activities such as sport fishing in the also called "Capital del Marlín", whale watching or visiting "el Arco" (the Arc), the emblematic site of Los Cabos.
·Wonders of the World: El Castillo - Tulum, Quintana Roo
Located on the seashore, this structure is one of the main buildings of the Tulum archaeological site.
El Castillo (The Castle) was built by the ancient Mayas on a cliff, 12 meters (40 feet) above sea level, which makes it a strategic surveillance point for preventing possible attacks by enemies, as well as to guide Maya seafarers at risk of crashing into the coral reef located near Tulum's coast, which is part of the Mesoamerican reef system. This system is considered to be the second largest reef system in the world, after Australia's Great Barrier Reef.
The archaeological site in Tulum boasts other important buildings, such as the Templo del Dios del Viento (Temple of the God of the Wind), which has a small altar inside. There is a special hole on top of it: it is said that, when a hurricane was coming, the aperture would emit a whistling sound that warned the Mayas when they needed to leave the city and seek protection in the forest. It is also thought to be an astronomical observatory.
The most beautiful city: San Miguel de Allende
Located in the "Bajío" region, in the state of Guanajuato, San Miguel de Allende has long reigned as a traveler favorite thanks to its colonial architecture, year-round spring-like climate, colorful cultural celebrations, renowned gastronomy and romantic setting. In recent years, the town has become an important tourist center not only for Mexico but for the world and an important destination for retirees from different countries.
Last year, San Miguel de Allende was also named the No. 1 "Top Small City Outside the U.S." and "Friendliest City in the World" by the readers of Condé Nast Traveler magazine.
·Heaven on Earth: Cancún
Its beautiful scenery framed by white sand beaches and turquoise sea; its extension and biodiversity in its reefs, lagoons, cenotes and forest; its ancestral Mayan culture wealth; its great air and ground transportation connectivity and; its highest level hotel infrastructure have positioned Cancún, Quintana Roo, as the most awarded Mexican tourist destination in the world and as a leader city in Latin America.
Besides having the best beaches in the world, you can enjoy exciting water activities in Cancún such as diving, snorkeling, kayaking, sailing on a Catamaran or speed boat, flyboarding, windsurfing and paddle boarding in the Caribbean Sea or the Nichupte Lagoon. Both immense water bodies frame the scenery.
Q. Please tell us of your point of view onhow to strengthen further the closer ties between Mexico and Korea in the years to come.
Relations between Korea and Mexico have registered a meteoric growth, at least in the past 15 years, because of the two government's determination and our societies multiple affinities. The increase of trade, and Korean investments in Mexico and the expansion of cooperation programs in key sectors for Mexico's development, as well as the alliances fostered through political dialogue and multilateral action show a remarkable progress in this relationship and, at the same time, great opportunity for further development in the upcoming years.
Korea represents one of the most successful models of economic growth and social development in Asia, and the world, in recent decades, which has led the country to stand out in the comparative indicators of competitiveness, education, income distribution and human development. Its solid industrial base and technological breakthrough present numerous options for Mexico's commercial and investment goals and offer a platform to increase the Mexican presence in Asian markets. At the same time, our Association with Korea offers increasing opportunities for employment, human resources training, technology adaptation, social exchanges, and cooperation for sustainable development.
To better take advantage of this potential, the relationship should move forward into a comprehensive stage based on its different dimensions. In other words, we need to deepen and extend our exchanges on the bilateral and multilateral sides; economic, scientific, technical, and technological sectors; on the cultural, educational, and social spheres; on the political, global, and local arena; and with the committed and determined partaking of every single one of the public, private and social stakeholders.
At the same time, both governments are working to address pending issues, such as the pending negotiation of a trade agreement: signing atrade agreement has been a bilateral aspiration for at least 15 years., Mexico aspires to achieve a comprehensive agreement than can assist in balancing our economic exchanges and, at the same time, that includes specific provisions for economic, scientific, and technical cooperation to strengthen Mexican industrial and technological capacities.
Mexico and Korea are immersed in a new era of friendship and are determined to adopt and share the benefits of development, to expand and strengthen the Strategic Association for Mutual Prosperity between them and to continue projecting its common identity as middle powers acting responsibly on the global scene. I am confident that in the upcoming years, our nations will find new formulas and ideas for a deeper and stronger partnership.
저작권자 © 서울시티 무단전재 및 재배포 금지